See what our clients are saying about Sherlock Homes Inspectors!


These are just a small selection of our client reviews taken from Google, 411.ca, Trusted Pro's,
Homestars & ShopOkotoks.ca.
Check out Google, 411 & Homestars:
"Winner Of The Calgary Home Inspection And The Customer

Service, Trusted Pro Award' 2015, 2016 & 2017!"
Gary Rose is a true professional in his field. My buyer hired Gary to do a full inspection of their first home. He spent over 4 hours in the home- he was very detailed. My buyer was thrilled that he gave her the straight facts, she wanted to know what she was getting into, he gave her a very easy to read/comprehensive report. I would recommend Gary for those looking for a quality inspection!

Lorenda Coles Re/Max First.
http://www.justinhavre.com/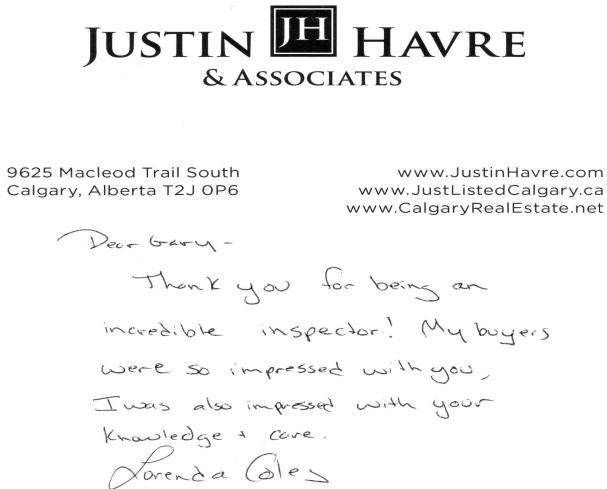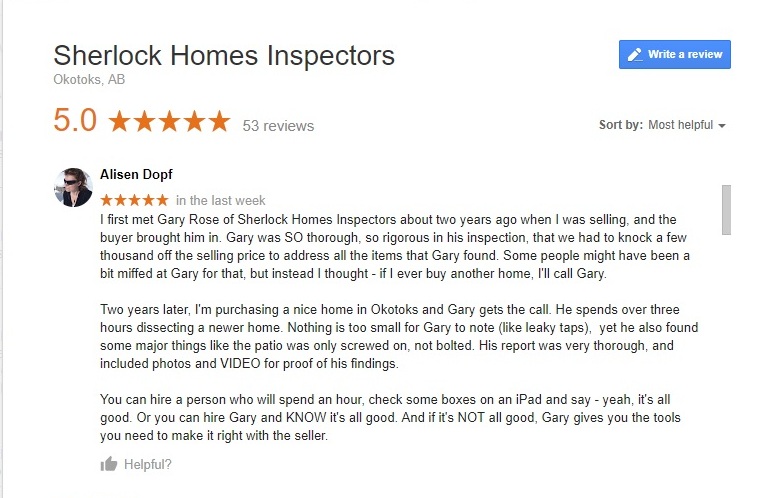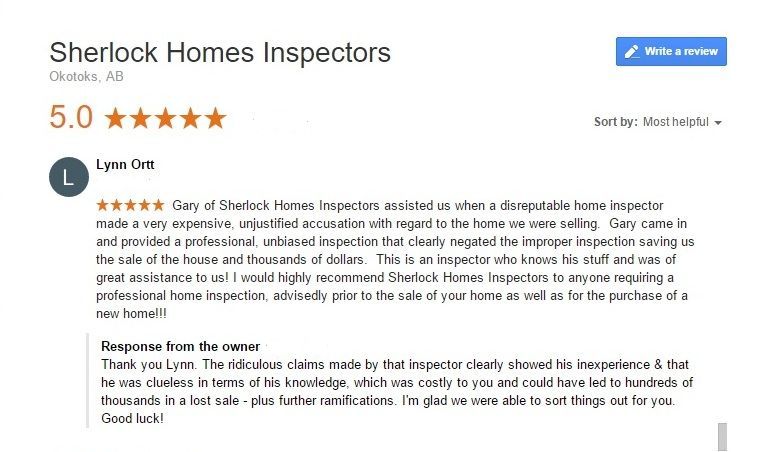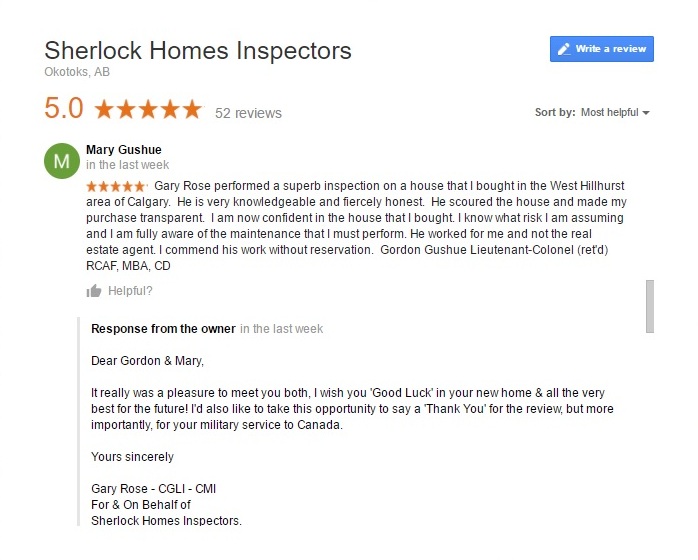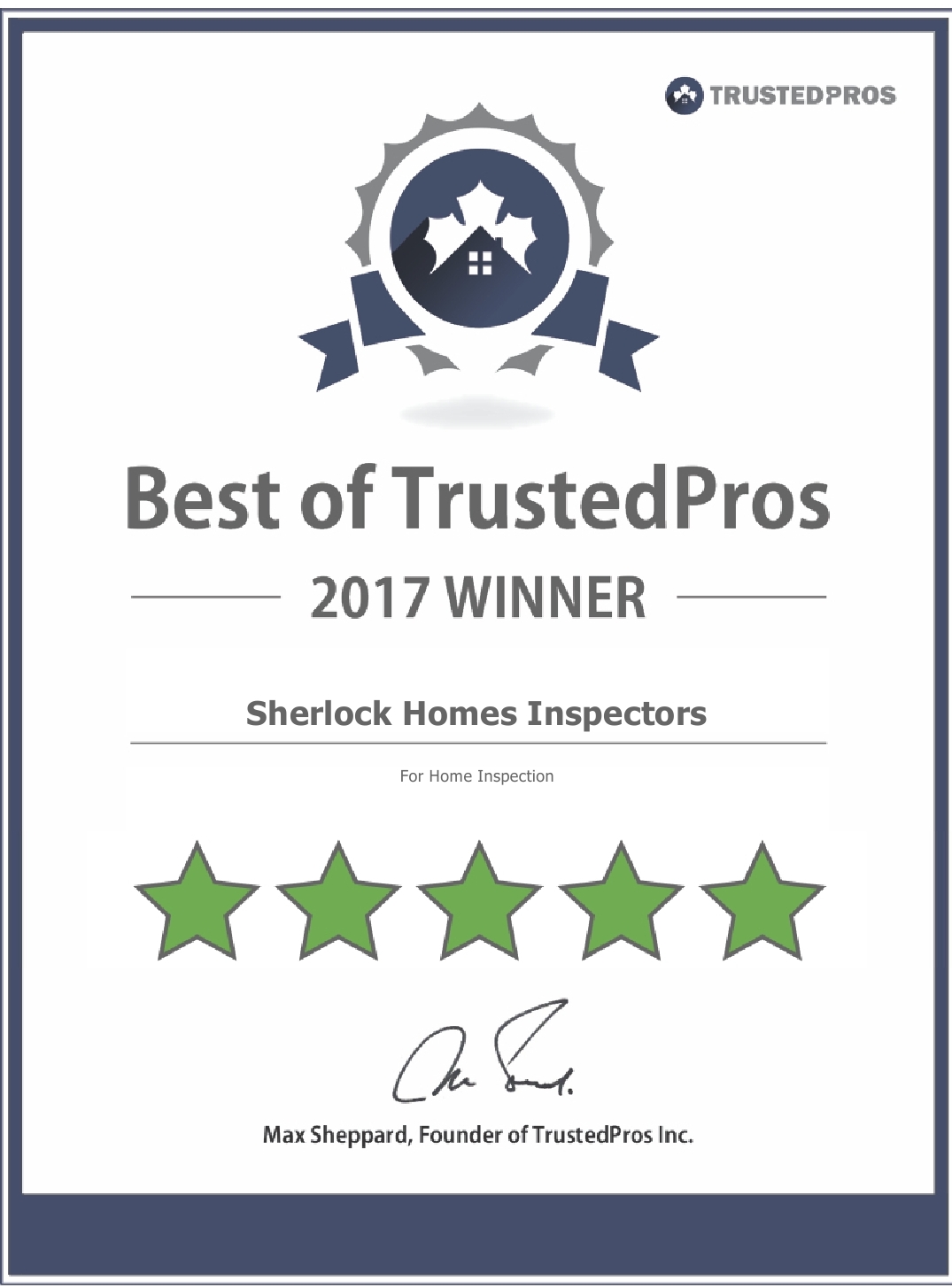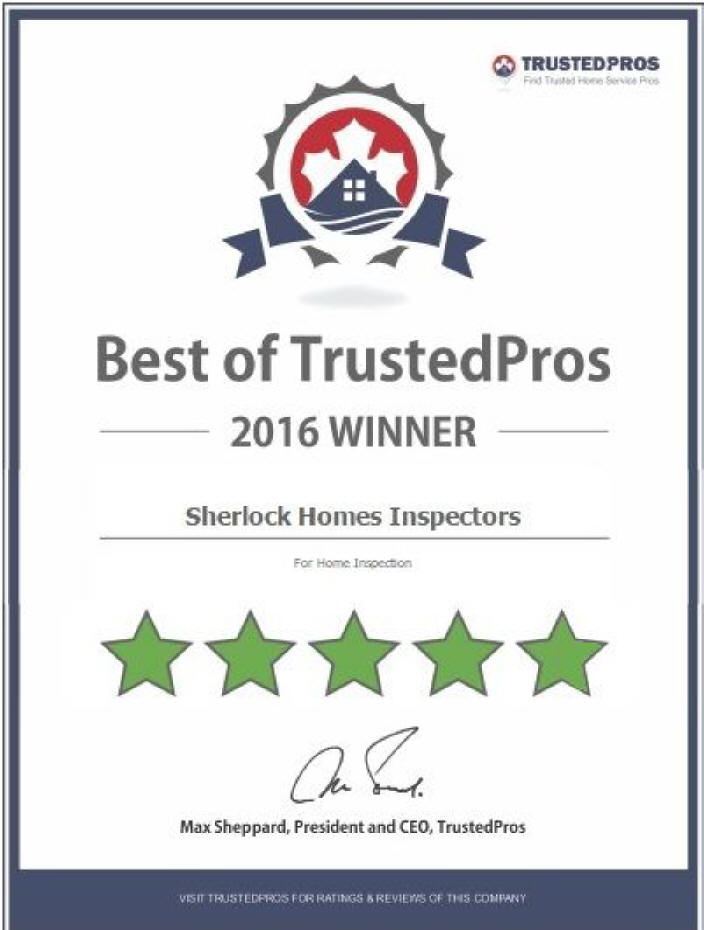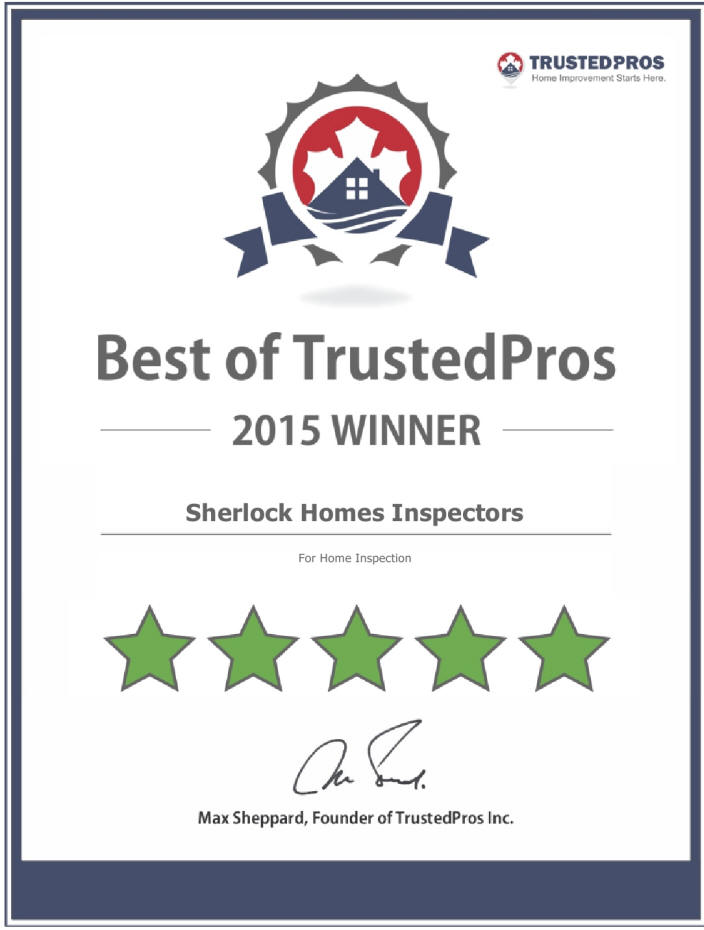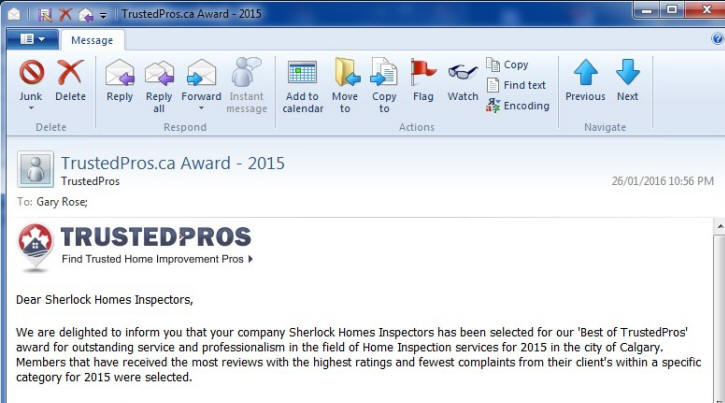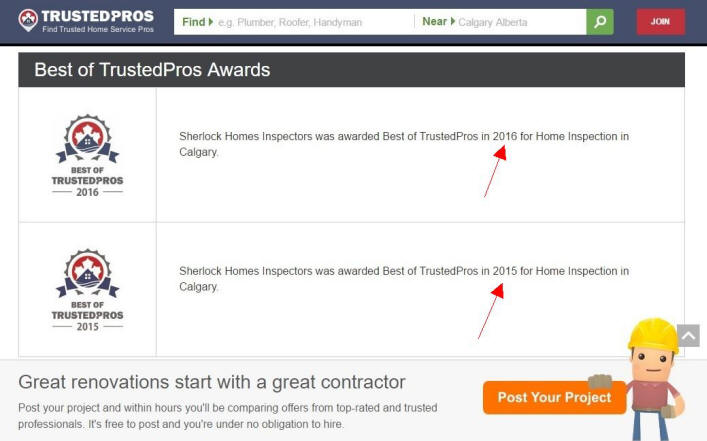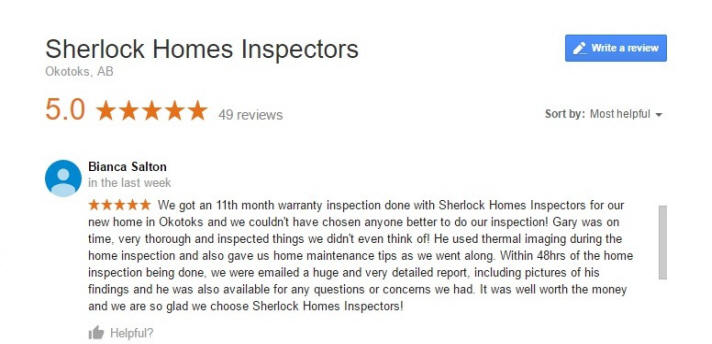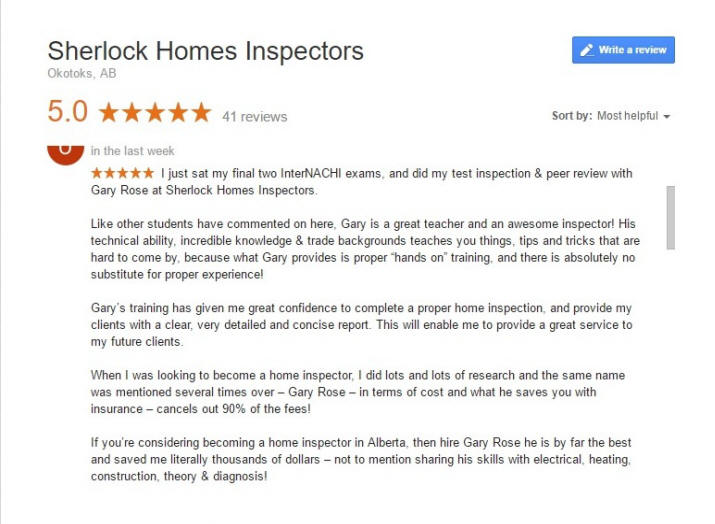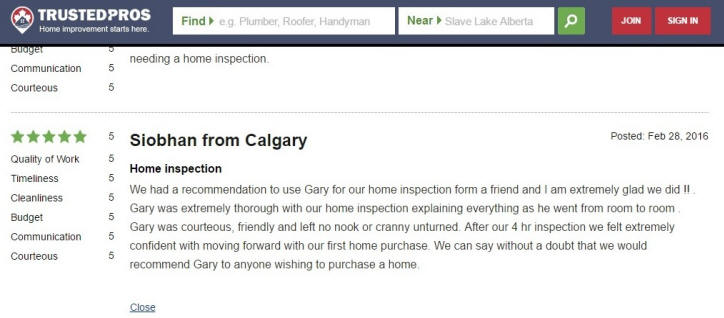 ______________________________________________________

September 6th 2015
I am a professional who is very hands-on, very systematic and also very detailed in most things I do. Add that to the fact that this was my first home purchase meant that I had a million questions. I did some research about the home inspection process and called at least 8 different home inspectors conducting my own little phone interviews before hiring Gary.
What I liked about Gary was that he was extremely knowledgeable of all aspects of house construction and QA/QC. He knew the typical problems areas where builder would take shortcuts but also knew the signs when the builder paid attention to details. During the inspection, I randomly commented giving a thumbs up to areas that I knew had minor issues but wanted to hear Gary's response if he would blindly agree with me. He pointed out the issues and was spot on. He really knew his stuff. Gary had a lot of patience and very good people skills.
I accompanied Gary for the entire 5 hours during the house inspection and after the 4th hour finding nothing major, I started to get a little complacent and comfortable that everything was fine with the house. However Gary stayed the course and did not relax on this thoroughness paying attention to the finest of details. In areas that we found minor issues he took the time to explain the issue, suggest the appropriate priority to give and also offered suggestions on how it could be rectified. Thank you Gary for a job well done and I would definitely recommend you to anyone who wants to do a home inspection.
Harry Deonanan - Electrical Engineer.
Calgary SW.
____________________________________________________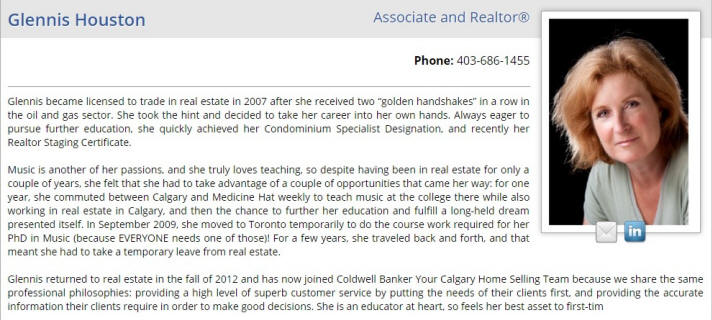 "I am a Realtor, and my seller was accused (falsely) of having a grow-op in their basement by the inspector the buyer used. In a panic, I called Gary to have him come in and do an inspection for my client and Gary was able to refute the first inspection and put my clients at ease. I knew there was never a grow-op because I had known the house and owners for many years - it was quite ridiculous an assumption the first inspector made. Bottom line is be careful with the inspector you hire - just call Gary because he's the best and knows what he's doing."

Glennis Houston, Realtor & Jazz Singer
Coldwell Banker Complete, Calgary, AB.
http://www.cbcompleterealestate.com/index.php
____________________________________________________

Gary was punctual, thorough and methodical on the day of the home inspection. He answered all of our questions, no matter how trivial and did not make you fell stupid for asking them. His report was delivered when he said it would be and was clear and understandable. The problem area's of the property were evidenced by photos and info red pictures. His report saved us a very large amount of money in the purchasing of the property. He has made several follow up phone calls to check that everything is OK. Because he is not affiliated with a realtor, his report is honest, unbiased and trustworthy. On top of this he is a very nice genuine guy, who cares about his customers. A very rare find in today's business world. I would recommend him to anyone.
Pat Nelson - Aug 6th 2015
Okotoks.
________________________________________________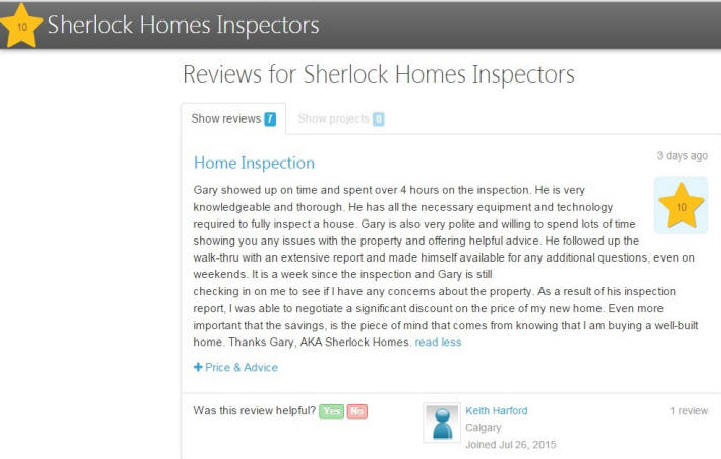 Keith Hartford - July 26th 2015

_______________________________________________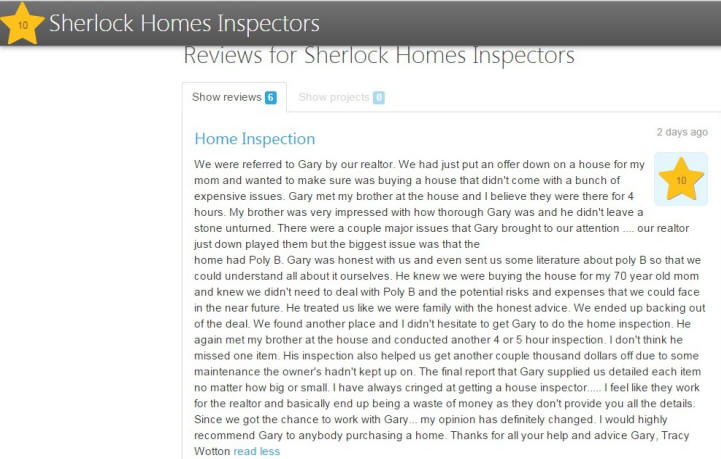 Tracy Wotton - June 19th 2015
_____________________________________________________
"I'd just like to thank Gary Rose at Sherlock Homes Inspectors, Okotoks, for his help, information, expert advice & professionalism.

Calling on his vast experience, honesty, integrity and vast knowledge in 'Home Inspection' helped us save thousands of dollars during our recent renovations, something we are very grateful for and will not forget.

We would have no hesitation in recommending his services in the future - and will be calling on him again soon".

Many Thanks

Eric & Jan
High River
________________________________________________
Hey Gary,

"Thanks for your help yesterday, that electrical fault had been driving us crazy for weeks with intermittent tripping - not to mention the inconvenience. I still can't believe we had two guys look at this problem - paid them, and still had the same issue.

You came recommended, on time, discovered the problem inside 30 minutes - which was a real gong show!

Awesome service & great price too!"

Thanks buddy,

David ( Okotoks )
________________________________________________

"Thx to Gary for the advice and doing my leak on the hot tank, I think it concerned you more than it did me. That thing had been leaking for years! Great service and expert advice - I'll be in touch real soon".
Steve T ( Airdrie )
________________________________________________

"Thanks so much for helping us out, and all your helpful advice & tips with our new home purchase. It saved us a fortune long term. I'll be passing on your card to my brother, who is looking to buy in Airdrie. I'll be in touch as I want to discuss my construction drawings with you - just as soon as they're completed. Great job!"

Jane
________________________________________________


"We were recommended to Sherlock Homes Inspections by some friends of ours. They had used their services on various occasions and found them to be very reliable, knowledgeable, detailed & above all - great customer service!
Based on this, we booked our home inspection and were very pleased with their services. Gary did the inspection, which was lengthy – just over 4 hours in total, he explained the process and his findings as we went along, I asked lots of questions which he was more than happy to answer.
When we received our report, there were some issues of concern to which he provided sound advice and offered great solutions in order to resolve - which was a huge relief for my husband and I.
Great service, great advice, and a pleasure to do business with, we'll definitely be coming back"!
Helen & Ray (Okotoks)

________________________________________________
"Awesome inspection! I'm soooo glad that electrical fault was found in my panel. I'll be back in touch for sure!"

Brad & Stacey - NW Calgary.
_______________________________________________

"My friend and I decided to purchase a house between us, we then used an inspector who came via our realtor. We were not too happy with the report - or the fee we were charged. My friend happened to be speaking to a work colleague who recommended Mr Rose, who had completed an inspection for someone else having met him at the South Health Campus project. We contacted Gary and he called round to see us both and arranged to complete a home inspection.

We were very impressed by his knowledge and expertise, not only by all the things he managed uncover which the previous inspector missed, but he took the time to answer our questions and gave detailed explanations about how things worked - and some great moneysaving maintenance tips too!

He also gave some support and guidance in getting some of our money back from the previous home inspector, which Gary described as; "not being worth the paper its written on."

Jane and I still can't believe how many more faults you found that were originally missed, and all the money we saved too! We shall definitely be recommending you to all our friends."
Awesome job!
Jane & Elizabeth - SE Calgary.
__________________________________________________

Gary,
just wanted to
"I just wanted to give all the new and up and coming home inspectors the heads up.

The proctored exams were conducted professionally whilst making the student feel relaxed, settled and ensuring nothing was left to do other than tick the right answer!!! Read, review, remember and you will be ready! Skip the subject matter at your own risk.

The big one – the peer review.

The training day was worth every minute and certainly made me think about the whole process, a huge eye opener! Your vast experience particularly with electrical and plumbing/heating took the student way past what you ever need for the basic inspection. Having that extended knowledge whilst in the field will undoubtedly prove invaluable. Not only will the new inspector be equipped with knowledge beyond the standards, the customer should be impressed with my superior knowledge and the extra value for money I am able to provide by going the extra mile.

All this said, the actual peer review was no walk in the park. Whilst Gary once again makes you feel settled and ready for the daunting task ahead, Gary's high standards keep the pressure on throughout the process. This includes the days following whilst preparing you report, and the review afterwards!

After passing all the exams and peer review, I returned for yet more training in areas where I thought I would benefit most. Don't think for one minute that just because you have passed you can relax! This is Gary, and his enthusiasm is still overflowing!

He needs to drink less coffee! Drawing, sketches, taking this and that apart, the questions and the shaking of heads – with a smile! You think you know nothing, that is, until you sit and reflect on your own notes. In reality, you now know far more than you ever could have imagined. A sense of relief from what it could have been if you went out without this knowledge.

Now that's the scary part – what if? All that said, Gary's professional attitude, commitment to professionalism and high standards has given me the best possible chance to succeed as a new home inspector.

Gary, thank you for your time, experience and the laughs we had - mostly at my expense!"

Kevin
____________________________________________________

"I can't say enough about how happy we are finding Gary online, after discovering our rear garden door had been leaking for fourteen years we had to find a inspector to take a look and let us know what had to be done to fix things. Gary showed up the very next morning, he was great. He assured us it could be taken care of and right away brought a great person on board to see to all the repairs and rebuild. From then on the job ran very smoothly, both were here when they said they would be and we could not be happier with the work done. We would not hesitate to call on them again."

Cindy & Frank,
Okotoks
_____________________________________________________
"I'd like to share our story regarding Gary Rose of (Sherlock Homes Inspectors) who came highly recommended from some friends of ours. Having completed some plumbing and heating work for us, we then hired him to do a Home Inspection on a potential property we were interested in purchasing.

Gary completed our inspection and submitted a very detailed report in a timely manner – and this is where it got real interesting! Gary not only found an additional 16 faults to the property – albeit minor ones, but none-the-less faults, these were estimated at around $1,500 to $2,000.00 in repairs - of which the seller's inspector failed to spot! We didn't go ahead with the purchase – not because of the faults but for other unexpected & pressing reasons.

I now understand from Gary that the seller has hired him to carry out an inspection for him too. I'd like to take this opportunity to thank Gary for his expertise and valuable information. Based on our previous experience of Home Inspectors, he brings a whole new meaning to the word "Home Inspection" in our experience he made it more of a scientific investigation than a home inspection! I would have no hesitation in recommending his services, and as soon as we find another property I shall be back in touch for sure..."
David & Susan Pinfold

______________________________________________


I want to thank Sherlock Homes Inspectors - Gary in particular, for his expertise, & attention to detail in completing our Home Inspection. His expertise and advice saved us lots of money, and we're so pleased with the results!

Thanks for everything Gary, it was a pleasure meeting you.

Alison.
________________________________________________________________

Although I've not used Gary for a Home Inspection as yet, I've used his services for a number of other small projects around the home ranging from electrical work to advice on sump pump reconfiguration, upcoming electrical etc.

He responds openly and honestly to questions, takes pride in his work and everything is left tidy on completion. His attention to detail is second to none.

Whilst looking at the sump pump/pit Gary picked up on the fact that the electrical box was sat to the side of sump pit (just loose in the gravel)! This was a new build home so was obviously left that way by the builders, this issue was missed by both the town inspector and also the home inspector which was a bit odd.

I can safely say Gary is one of the good guys, he knows his stuff and has a wealth of knowledge from his 30+ years in the business. I actually feel like I'm getting a service as apposed to someone showing up with the sole intention of taking my money which is quite refreshing these days

Stuart Stokes - Okotoks
__________________________________________________

Gary's details came via a friend who had used his services on their property. He showed on time, answered lots of questions, gave us some great technical tips, we were more than happy with the fees as he actually saved us almost 5 times the amount in future repairs! T

Thanks so much Gary!

Anne
____________________________________________________


We had a home inspection completed by Sherlock Homes Inspectors - Okotoks. They came highly recommended and I was impressed by Gary's candidness, honesty, integrity & attention to detail.
The inspection took nearly 4 hours, we received great service, a detailed report & we'd have no hesitation in recommending his services to anyone who's looking for quality & the 'truth' - as to the current state of their home, or forthcoming purchase!

Thanks Mr Homes!

John Phillips - Okotoks.
_____________________________________________________

We are very pleased to recommend the services of Sherlock Homes Inspectors. The service we received from Gary was second to none. He was extremely detailed in the inspection of our Acreage and we felt that our interests were always a priority. In addition, Gary went over and beyond our expectations and researched information that we needed to find out, and worked extremely hard to meet our expectations at all times. In conclusion, a great company with great service that is highly recommended!
Joanne Calvert - Okotoks
______________________________________________________

Above and beyond,

I was referred to Gary Rose from a family member who had previously used his expertise and he went above my expectations. I contacted Gary as my home Inspector for the purchase of a town house. He was very meticulous in the inspection, identifying minor and major potential issues with the inspection. As he went through the inspection he was able to identify and explain what the concern was and why it would be a concern. I would use and recommend his services to anyone.

Crystal Young.
____________________________________________________

I have had Gary Rose do a number of electrical jobs for over the past year. Gary is very knowledgeable, professional & efficient. He is also very personable. I would not hesitate to recommend Sherlock Homes to anyone that has an electrical problem to solve. Thanks Gary for the great work!

Kris Cole - Okotoks
___________________________________________________

"I had a home inspection completed by Sherlock Homes Inspectors, Gary, in Calgary. The service was great and very detailed. It took more than 3 hours. I highly recommend him for your home services".

Thanks, Ahmad
___________________________________________________

"Gary inspected our second potential home, and shortly after the inspection began we heard some rustling from upstairs, and then the current tenant came down and confrontationally asked us what the **** we were doing in his house. There was a very apparent miscommunication between the seller and tenant, and he was not happy about us being there. Gary, without hesitation, manage to calm the tenant down, and get him to allow us to stay and complete the inspection. I am very certain that he could have got the tenant to make us coffee if he wanted to, haha. Gary is very detailed in his inspections, and does not shy away from telling you what you can fix yourself, and what you need a professional to come in to look at. I would not hesitate to recommend Gary to anyone I know that needs an inspector, and I would definitely use him when we buy our next house!! If you really want a good chuckle, make sure your realtor is a bit gullible, Gary will find a way to make you all laugh!"

Thanks again Gary
Cody Jones
_____________________________________________

We needed inspection for the house we wanted to buy. In a very short notice, Gary Rose was able to accommodate us even at our own convenience. Very nice guy and very good at what he does. he was very efficient. I would definitely recommend. Job well done!!!
Greg Barcelon
____________________________________________

Hired Sherlock Homes Inspectors to inspect & report on some electrical and construction work we'd had completed by a local company.

We were very impressed by Gary from the word go! He spent just over 2 days going through various test procedures on the electrical system, and uncovered everything from some serious grounding issues, misaligned pot lights – some fitted with no fire protection, wiring reversed on receptacles & GFCI's that failed using his high tech test equipment.

Things were no better on the construction and heating side either, incorrect drywall used, located a gas leak too – although this was nothing to do with the builders.

The report came and was just as impressive, we're currently suing the builder and Gary as agreed to support & help us all the way, and appear as our witness too!

We're currently having remedial work carried out, and hired Gary to oversee things as to progress and standards…

These days, reliable, trustworthy & professional people are hard to come by. As another poster said on Google, Gary is one of the good guys and his standards are second to none!

He's a straight shooter and tells you exactly how it is, you might not like what he says, but I can guarantee you no matter what - it will be the truth with no candy coating!

Phillip Lamping – Airdrie
_________________________________________________

Gary Rose of Sherlock Homes Inspectors, in my opinion is an extremely knowledgeable, efficient, methodical and very professional house inspector. I would highly recommend Gary to anyone seeking an inspection. Gary was kind enough to oblige and do the inspection of our house at a very short notice. Thank You Gary.
Jacintha Pereira - Okotoks
_______________________________________________

Hired Gary Rose (Sherlock Homes Inspectors) to look at two houses for us, super guy, did a great job, his expertise & knowledge was awesome! Very detailed and organised, didn't let us down at anytime, this guy really goes all the way with client care!

Given our past experiences of Home Inspectors, this was amazing! He's our Home Inspector for life that's for sure!

Pete Clark - North Calgary
_____________________________________________

I highly recommend Sherlock Homes Inspectors. Gary was kind, attentive, informative and punctual — and is genuinely dedicated to the well being of the potential buyer. He gave my partner and I everything we needed to make an informed, solid choice on whether to purchase the property, and taught us a lot to boot.

We will definitely be customers of Sherlock Homes Inspectors next time. The report we received (the very next day) is very well laid out and easy to understand. The points are well articulated and backed up by thermal images and ample photos. I'm pretty sure SHI just saved us a mountain of money.

Thank you very much! You are great!
Jessica Hallam
Follow up:

Months later, we put an offer on another home in Okotoks and engaged Gary, once again, to inspect the home. This time, the home was in much better shape and the inspection reflected that. Pleased to report we are now happy and confident, living in our new home. Thanks to Gary for all of his help along the way. You were informative, patient and cordial. We really appreciate your awesome service.
Jessica & Brendan
______________________________________________

I have dealt with Sherlock Homes on two occasions now, and have found Gary to be a true professional in every aspect of conducting business. Response to my enquiries was very timely and thorough, concluded by the successful outcome I was working toward. Thank you.
Gus Seymour.
__________________________________________________

I have used Sherlock Homes Inspectors for two inspections, my main home and a rental property. He turned up on time, was very professional, he was very thorough - much to the annoyance of our Realtor, who kept asking how much longer he was going to be after an hour & a half - so you can imagine his tone after 4 hrs when the inspection was complete. This did not phase Gary as he continued with inspection, his reports arrived for both properties, they were clear, concise & contained lots of clear images highlighting problem areas.

All in all, a great job, & a great company to do business with, I would have no hesitation in recommending Sherlock Homes Inspectors to my friends, family & anyone requiring a serious professional & detailed Home Inspection.
Mark Turner.
_____________________________________________

I had some concerns with cold areas of my home but when contacting a HVAC company they recommended a home inspector. Although I was sceptical, thinking home inspectors specialize in home purchases, I now know Sherlock Homes was the right choice! Besides being punctual and very professional, the issue was found quickly using some up to date technology as well as obvious experience and knowledge. I was given all the information and instruction I needed to do the job myself as I had asked, but also knew what to expect if I had asked a contractor to give me a quote.

I have asked a few more questions well after the fact and have been given answers within an hour of asking. I fully recommend using Sherlock Homes for consultations on work needed, and in the event of a purchase of a new property, I certainly know who I will call to do my home inspection as well.
Randy Lucan.
_____________________________________________

I can't exaggerate how happy I am with the service I received from Gary Rose. I called numerous inspectors before I hired him, they offered lower rates but had no professional appeal over the phone AT ALL. Even Sherlock Homes rates are NOT outrageous at all, they are exactly what a person should be paying for such an important service. A house purchase is nothing to be taken lightly, so I did more research and found Sherlock Homes on Kijiji. I am SO GLAD I called.

I immediately knew that I had found the inspector I wanted to use and booked him immediately. It took about 5 hours all together to do an inspection of the home. He was thorough. VERY thorough. And lucky for me, didn't find any major issues with the home. I now feel confident in the purchase I am making. And this is thanks to Gary, he alleviated a lot of stress for me. He didn't cut any corners.

He communicated the issues with me. He was friendly with the realtor (who also didn't pester him to hurry up- I think that helped). And the report is immaculate. It is easy to follow. It has a lot of pictures. He obviously spent a lot of time writing it up. We are going to use it for our "renovation/home improvement guide" and check things off as we upgrade our new home. THANK YOU GARY

Alex Cowburn
_____________________________________________

Gary Rose is thorough and takes great care in his inspections. He stops at nothing to discover both good and bad about homes for my buyers. In the discussion after the inspection, he is straight-forward and tells it like it is. Gary is a personable man and obviously cares a great deal about his clients and doing the best for them. I would highly recommend Gary and Sherlock Homes Inspectors. He is tops in my book!
Glennis Houston - Realtor & a professional Jazz performer

_____________________________________________________

After knowing Gary for a couple of years, it was a given that I would request his company do the inspection on a condo I was purchasing. He has always been my "go-to guy" when I had electrical concerns (And boy! Did I have concerns!) and plumbing questions etc. He has, not only the knowledge, but a genuine concern that things are done right.

To me, that needs to be the first requirement in an inspector. When my real estate agent referred Gary, I had to laugh as I was already texting him and asking him to do it. So the inspection was performed. I felt a lot better about a lot of things after that. That's important when you have a tremendous amount riding on the decision.

Besides the money, there is the safety of your family, or someone else's. That is big. The one thing I knew throughout the inspection is that he would be honest, focused and thorough. He was. He also gave me information as to how to rectify those things, whether they were major/minor and worth the end game. Things I didn't know. Since then, I've had questions. A lot of questions!

Gary has answered them all and then some. He's replied quickly, thoughtfully and helped me through this with insurance information and good advice. from what I've heard of other inspectors in the Calgary and Foothills area, you'll be happy to know that you will have picked right in Sherlock Homes Inspectors

Caryl Walker
http://www.greenwaypackers.net/
_______________________________________________________

Gary of Sherlock Homes Inspectors assisted us when a disreputable home inspector made a very expensive, unjustified accusation with regard to the home we were selling. Gary came in and provided a professional, unbiased inspection that clearly negated the improper inspection saving us the sale of the house and thousands of dollars. This is an inspector who knows his stuff and was of great assistance to us! I would highly recommend Sherlock Homes Inspectors to anyone requiring a professional home inspection, advisedly prior to the sale of your home as well as for the purchase of a new home!!!
Lynn Ortt
______________________________________________________

Gary was very thourogh and had no issues letting you know right away when something was wrong. He was very friendly and easy to get along with. We had a full 3 hour inspection on our 1500 sq ft property! I would defineatly reccomend Sherlock Homes inspections to friends and family!
Clarke Lanktree
____________________________________________________

A big thank you to Gary for his utmost professionalism and knowledge. I recently had him do an inspection on my new Okotoks home purchase and it was detailed easy to read and he even pointed out positive things about the house as well, making me so much more comfortable with my purchase. He had noted something that we would like investigated further, so between my realtor and himself they went out and Gary gave the ok on it, this was after he did the home inspection, but he wanted to make sure it was right for me and I didn't end up owning a home that could eventually cost me several thousands of dollars to fix. I think I equate him more to be like a detective getting to the bottom of things. He puts you at ease and his sense of humour is refreshing to say the least. I would highly recommend Sherlock Homes for the biggest purchase of your life Than you for everything Gary you are truly a gentleman and a scholar.
Terra Gregory
__________________________________________________

As a first time home buyer it can be very scary knowing that you are making the right choice for your family. Gary came in and was very professional, very thorough and straight forward. Reports that followed the inspection were easy to read and I had no questions on what need to be fixed. I will be telling all my friends and family about Gary and Sherlock Homes Inspectors. Thanks so much for making this purchase less stressful.
Darrell Ward
_______________________________________________________
Thank you Gary for the great inspection job you completed on the house we were about to buy. Fortunately, because of this inspection and your expertise you uncovered numerous problems that would have contributed to costly upgrading. As of now we have withdrawn our offer based upon the inspection results.
Up and beyond the inspection you were very helpful providing suggestions and advice regarding the purchase of this older home.
Thanks again and we will call upon you and Sherlock Homes Inspectors in the future should the need arise.

Regards,
Brian Larson BEd
Lacombe, AB.
_______________________________________________________

Gary is very knowledgeable and a great teacher. he clearly translates sometimes very confusing information. my training has been over for sometime now and Gary still takes time to answer any questions I might have. If you are considering becoming a home inspector and are wanting to be great at what you do Gary is your man. I have no problem recommending his services.

Stephen Francis

1call home inspections
_____________________________________________________
G M Rose - CMI