The First Certified Master Home Inspector in Okotoks!

Voted By Trusted Pros - The Best In Calgary 2015 & 2016!
"Hiring a Home Inspector"
Choosing a good home inspector to evaluate & report on possibly your largest investment can literally be a minefield in terms of "who do I hire?"
The importance of hiring a good Home Inspector cannot be over emphasised, check out these clients who didn't and how they have now been literally left with a money pit!
https://plus.google.com/+Sherlockhomesinspectorsconsumerinspectiontips/posts
All of this could have been avoided if they had hired an educated & professional Home Inspector, one with experience, education & not to mention a Realtor with integrity – one who actually cares about the client's best interests instead of the 'huge' commission fee being his or her primary goal!
The Realtor:
Ethically, morally, being transparent, open & honest, your chosen Realtor should be offering you the choice of several licensed Home Inspectors, with absolutely no influence from the Realtor placed on any 'one' particular inspector.
Now you have the details of these several inspectors - do your homework, check reviews, use Google – gather as much information as you can to help you make an informed decision on which Inspector to use.
If your realtor suggests their 'one and only' inspector, or the details of just one, I would strongly suggest at this point you decline their offer & choose independently. From that point on, watch your realtor like a hawk & question everything!
Hiring Independently:
Hiring independently is by far the safest & best way forward when looking to hire a home inspector. It is currently the only way you can be sure 100% that you're getting an unbiased, totally independent Inspection and report - free of all influences as to the property you're considering to purchase.
Use the following guide to help you – its FREE - regardless of whether you hire us or not!
You have nothing to lose and everything to gain, it has the potential to save you thousands of dollars!

Hiring a Home Inspector in Calgary

1/. Having chosen your Home Inspector, make sure he/she presents you with a legible 'home Inspection contract' BEFORE the Home Inspection commences. Question anything you're unsure of - pay particular attention to the liability get-outs, exclusions & small print.
3/. Ask if he or she will be 'personally' carrying out the Home Inspection - if not, make sure the person or contractor carrying out the Inspection is clearly named in the 'Home Inspection' contract, listing their business and Home Inspector licence details - be sure to check they're insured and bonded too!
4/. If they're using a contractor to carry out the Inspection, the person/s named in the contract, ask if Home Inspection is their full or part time occupation, would you really want your largest investment inspected by a part time fireman, police officer, labourer, butcher or a cleaner? These are in abundance on a part time basis within Calgary - having completed a 90 day course - yet have no actual skills, trade certification or residential experience whatsoever!

To give you a better example, it takes 2 years to become a certified hair stylist within Alberta - it takes less than 3 months to become a Home Inspector - even sooner if you retain information well, you're then deemed competent by Service Alberta to Inspect and write reports on $200,000.00 transactions - upwards!
Be sure to ask about your chosen Home Inspectors credentials, experience & any trade certification they may have.
5/. If the Home Inspection business is using contractors, ask about liability should anything go wrong? Will the main Home Inspection business listen to your concerns & address them? Or will they just leave you to chase the sub-contractor who then never answers his/her phone, or the infamous recording: "I'm out of the office at the moment, leave your details and I'll get back to you."
6/. Ask how long the Inspection will take, as a guide a 2,350 Sq ft 2 story home should take no less than 4 to 5 hours if done properly. Anything under 4 hours Minimum - be very wary & question.
7/. Ask how many Home Inspections they complete in a day, if more than one - this should ring alarm bells. As any professional Home Inspector will tell you, its virtually impossible to complete any more than one in a day - "properly" that is.
8/. Ask to the see a copy of their business licence and Home Inspector's licence - does the information correspond? Does the information & details match what the company/person/s carrying out the inspection says in the contract?
9/. Having chosen your Inspector, ask lots of questions, especially about the components to do with the construction, heating, structure, roof & electrical etc... and then ask them to describe the role they play within the system.
10/. Ask family & friends etc...

11/. Use Google to search for Home Inspectors, check out their reviews etc.... obviously be aware of reviews written by Realtors about just one Home Inspector - or company - especially if there is more than 5 written about the same Inspector/company, its pretty obvious what is taking place there..
Finally, see what our client's are saying:

http://www.sherlockhomesinspectors.com/reviews.htm

Take the advice from Barbara Corcoran about hiring independently, given her huge success It's fair to say she's worth listening too!
Here's some of the same advice from the BBB ( Better Business Bureau )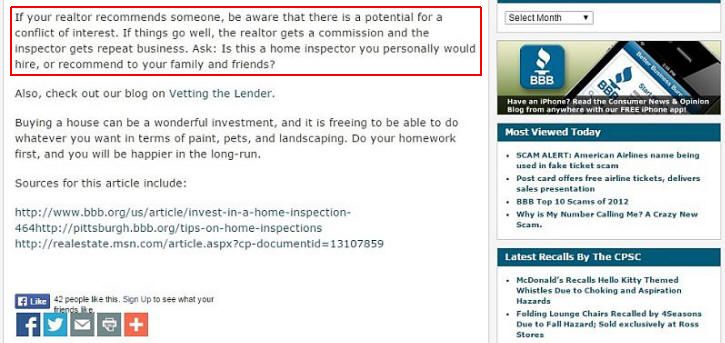 Hear what professional Home Inspector Bruce McClure has to say, and his suggestions, calling for change & his campaign in Ottawa - hopefully nationally, & all to benefit the client & Home Inspection industry no end - Alberta is in desperate need of these proposals!
Check out the clause 4:3 at 9:38 'Realtors conflict of interest' What a delightful idea!

"It makes so much sense to hire independently on possibly your largest investment!"
________________________________________________

Here is a printable version of our safety tips when you're looking to a hire a Home Inspector:
Should you have any questions or concerns, please do not hesitate to contact us.
G M Rose - CMI